Well, here we are again and already. It seems as if we were just celebrating the Winter holidays and now, we're just supposed to start celebrating them all over again. Here in Minnesota this might be due to the fact that Winter routinely stretches well into April. Summer snuck by quickly as it was a relatively cool one this year and I spent most of it buried in real estate paperwork and subsequent mountain of cardboard moving boxes. So…here we are somehow, right back at Winter. I love Winter. I realize, of course, that not everyone loves Winter, or the holidays as much as I do, and that all this Winter-y gift-giving can often be very stressful. Being the helpful guy that I am, here's The Casks' annual, hastily assembled list of whisky-related stocking stuffers…
Let's start with two newish books that deserve a place on any whisky lover's shelf that isn't already occupied by a bottle of whisky. Chuck Cowdery wrote the still-relevant and informative Bourbon Straight a little more than ten years ago and finally got around to following it up this year with Bourbon Strange. Bourbon Strange is an engrossing collection of essays and stories about Bourbon's peculiar and fascinating past.
Yes, I realize Sherry: A Modern Guide to the Wine World's Best-Kept Secret by Talia Baiocchi is not a whisky book, but the importance of sherry and the sherry industry to Scotch whisky in particular can hardly be overstated. This book is a great introduction to this often overlooked, yet vital and wildly complex wine.
(As always, yes…you can buy these both from Amazon, but wouldn't you rather support your local booksellers? Of course you would.)
Both of these books are so engrossing no one could blame you for finishing them in one sitting, but there are those heartbreaking moments in life when one must put down a book. What better way than to mark one's place with a bookmark made from an Irish whiskey barrel from Conkr Creative, so one can pick up where one left off to attend to whatever bit of silliness needed attending to.
Of course, if that aforementioned silliness is going to get oneself a beer to quaff while one reads (which usually isn't very silly at all), you can also pry open that bottle with a Conkr Creative opener made from an Irish whiskey barrel as well.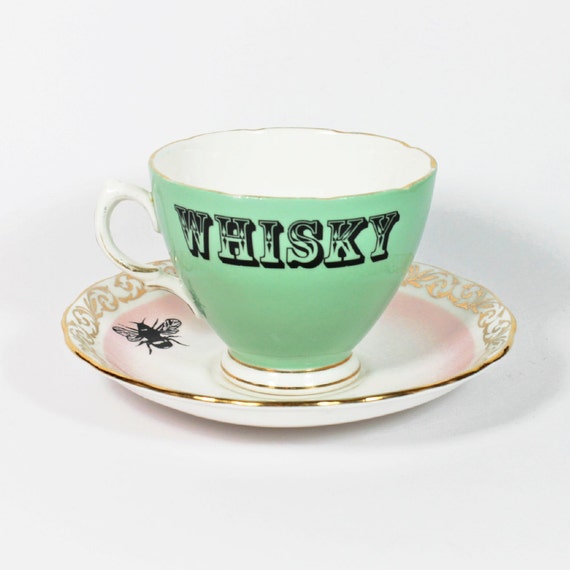 Or, if quaffing beer isn't hitting the right note, then perhaps a nice cup of tea? Or perhaps if something stronger than tea is needed, but by golly, you were really looking forward to drinking something out of a teacup, then perhaps this Tom Waits-inspired mug from Yvonne Ellen Homewares will inspire.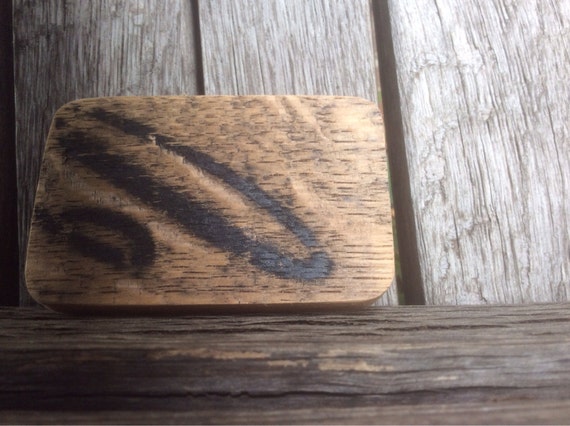 As pleasant as it sounds, one cannot simply spend their life with a book and a glass. There are times when one must venture out into the public eye and when venturing out into the public eye, it is occasionally necessary to wear pants, and on those occasions, holding those pants up is of paramount importance. Keep those things up with a belt adorned with this belt buckle made from ex-bourbon barrel wood from The Wooded Lands.
If one happens to be venturing out in public and would like to venture out in style, then perhaps one needs to gussy oneself up with some earrings made from old bourbon barrels from Scythe Studio, or maybe cufflinks made from old bourbon barrels from D. Fuss, or what the hell, maybe both.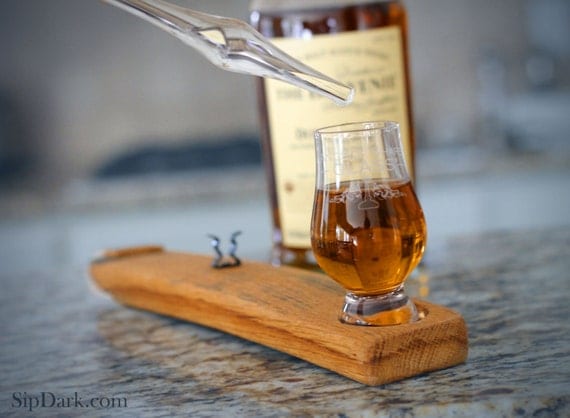 Admittedly, this next one perhaps not for everyone. While I find this an aesthetically pleasing object and certainly get the appeal, I tend to think that anyone who feels it necessary to add water to their whisky so precisely that they need an eyedropper…well, let's just say it's not my thing, not by a long shot, nonetheless, a blown-glass dropper and accompanying oak stave mount from Sip Dark would be a classy addition to one's whisky library.
If you'd actually like to buy some booze for someone instead of just something booze-related, it's time again for Master of Malt to make their usual appearance on this list. Why do I include them every year? Simple, they've come up with fun, creative ways to give the gift of alcohol. Whether it's their stellar whisky (or gin, or vodka, or tequila, or rum, or cognac) advent calendars, their home blending kits, or their new Christmas Crackers (traditional English crackers with a small dram of booze inside. I know, it sounds a little dangerous to me, too, but I trust they know what they're doing) Master of Malt know how to bring the holiday cheer.
Wake up! Time to drink! This last one might be a bit of a splurge, but if you're looking for a gift for a whisky fan who also happens to be a Blade Runner fan, a replicant, or what the hell…both, you could hardly go wrong with these hand-blown, crystal tumblers from Firebox just like the one Deckard uses in the film to drown his artificial sorrows.
HAPPY HOLIDAYS!